Knowledge makes all the
difference.
We know what you are asking and what you need, what the market has to offer and daily changes in availability. When a customer calls to request an offer, they will not find a handful of untrained salespeople on the other end of the line; rather they are met by a team of highly trained technicians and engineers who are constantly up to date. Each request involves an in-depth study. Thus we can guide the customer to alternatives when a product is no longer available or when there are items that can offer the same performance, perhaps at a better price, or, vice versa, better performance at the same price. And all this is done very quickly: from request to execution of the order often takes less than 24 hours.
A warehouse where

not even a screw is lost.
This facility features a surface area of 3,000 square metres, mostly developed in height through eight vertical automated stores where most of the sales items are held. These rooms are in communication with an assembly and testing area where the power packs are prepared against the order. A complex, rigorous bar-code system tracks each component and defines each job. This, together with a well-structured proprietary database, enables us to reduce the times required for quotation, preparation and verification, thus making each order a fast, error-free linear process.
A solid partner: valves, mechanical cartridges, electric cartridges, compact power modules (CPM), electric flow diverters, cetop and modular directional valves (CDV).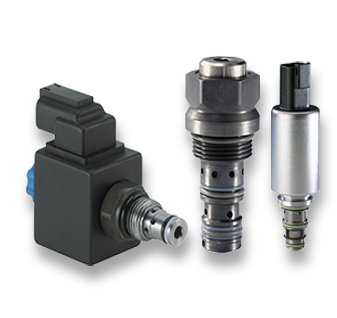 Monoblock, sectional, pre-compensated load-sensing (DPX) and full flow sharing valves (DPC), remote controls, flow diverters (DF & DFE).
Pumps and gear motors with bodies in aluminium (PLP & PLM) and cast iron (KP, KM, HDP & HDM). Flanges, shafts and flow dividers (PLD & HDD).
Heat exchangers, cooling systems, filters, thermostats, thermostatic valves, spare parts, accessories of all kinds.
Contact us,
we are at your disposal.
Whether your request is of a technical or commercial nature, do not hesitate to contact us by phone or by filling out the form. You will be promptly contacted by the most suitable employee.